About Us
MEI-Travel is a Mahnken Enterprises Inc Company
Creating Magical Vacations for Clients Since 1998
Mahnken Enterprises Inc, dba MEI-Travel & Mouse Fan Travel®, has been planning vacations for our loyal clients since 1998.
Our mission is to provide premium service and expert advice to help you get the most for your vacation time and dollar. We operate with the highest degree of integrity and will handle your family vacation, reunion, honeymoon, corporate incentive trip or getaway, as if it were our own. We pride ourselves on expertly representing and advocating for you - our client.
Travel Industry Associations & Memberships
Meeting High Standards & Travel Industry Code of Ethics
We are proud members in good standing with many professional travel industry associations. MEI-Travel is required to meet high standards and/or adhere to a code of ethics to be accepted into these organizations.
American Society of Travel Agents (ASTA)
ASTA is the world's largest and most influential travel trade association. It's mission is to enhance the professionalism and profitability of members worldwide through effective representation in industry and government affairs, education and training, and by identifying and meeting the needs of the traveling public. ASTA requires members to adhere to a strict code of ethics.
Cruise Lines International Association (CLIA)
CLIA is the official trade organization of the cruise industry, and works in partnership with affiliated travel agencies throughout North America to ensure the highest caliber of cruise sales expertise and service for cruise vacationers.
International Airlines Travel Agents Network (IATAN)
IATAN's mission is to promote professionalism, administer meaningful and impartial business standards, and to provide services and educational programs that benefit the travel industry.
The Travel Institute
Established in 1964, The Travel Institute serves as a community of knowledge and insight for all travel professionals. Through innovative education programs, professional certifications and customized learning solutions, The Institute fulfills its non-profit mission to promote a standard of industry knowledge and excellence. The Travel Institute's programs include the renowned Certified Travel Associate (CTA) and Certified Travel Counselor (CTC) certification programs of which many of us are graduates.
Licensed, Bonded & Insured
Seller of Travel Information
Mahnken Enterprises Inc, dba MEI-Travel, Mouse Fan Travel & Universal Fan Travel, is properly licensed and insured
In addition, some states require individual registration and some require proof of seller of travel bonding. We hold the required bonds and/or are registered as a seller of travel in the states that require registration, under each state's seller of travel regulations. Registration as a seller of travel in California does not constitute the state's approval.
California registration number: 2078074-40
Florida Registration number: ST36364
Iowa registration number: 815
Washington registration number: 601-952-261
Doing It Right This Time!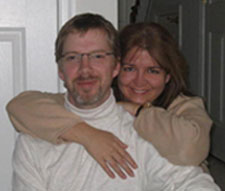 Our founder, Rebekah (Beci) Mahnken, began her travel career after 10 years of Customer Relations Management in the software industry. She has a passion for travel, cruising, and thanks to her father, she developed a special love for all things Disney. After a less then satisfying experience with a local agency, Beci recognized the need for a premium service agency, and decided to put her customer service background and travel experience to work. MEI-Travel and Mouse Fan Travel® are the result.
In 1998, Beci joined a small local travel agency as an Independent Contractor. Beci used the Internet and took courses with various industry associations to learn the ropes. And Mahnken Enterprises Inc/MEI-Travel was born!
Chris Mahnken, also a fan of travel in general, and Disney in particular, has an extensive background in the computer and graphic design industries. Chris and Beci recognized the power of the Internet early on and went to work to design the first version of Beci's website. Soon after the site went live it became so successful that Beci began to provide leads to other independent contractors who booked through the mutual host agency. The web site rapidly became a huge success, and in 2000 it was recognized as the "Best Travel Website" by Travel Age West magazine.
Early In 2001, Beci added her first Disney exclusive web site. She shared her customer service knowledge and provided training and sales tools to other agents. With Beci's leadership, the new site was providing over fifty percent of the agency's total business within a year!
By 2004, in an arrangement dating back to the fall of 2001, Beci had purchased a majority share of her host agency. Later that year she was recognized by Travel + Leisure Magazine as the Super A-List Agent for Disney destinations. All the while the agency continued to grow by leaps and bounds. In 2005, Beci sold her shares to her former business partner and along with Chris, struck out on her own.
MEI-Travel, in business since 1999 as Beci's corporate travel entity, was moved out from under the "host agency" umbrella and is now its own stand alone agency – which is the MEI-Travel you see today!
Chris is busy developing new tools for both the MEI & Mouse Fan Travel® websites as well as the new Mouse Fan Cafe community blog. Beci is thrilled to be working with a team of handpicked affililiates who excel at the art of service and represent the cream of the crop in terms of their experience and knowledge. The MEI-Travel team atmosphere fosters great client relationships, and is the type of place to truly be proud of.
Continuing education is key in providing up to date information and great service to clients. Beci has continued her education, meeting tough standards for best practices in the industry, and has earned several designations including:
Certified Travel Counselor (CTC)
The Travel Institutes pinnacle level of certification for owners and managers or long-time sellers of travel. This program requires completion of the CTA program and at least 5 years of full time experience.
Master Cruise Counselor (MCC)
Cruise Lines International Association's (CLIA) Second level of education and accomplishment focused on the cruise industry. This program requires completion of the ACC program as well as required classes, cruises and ship inspections.
Beci has also completed several specialist courses including the College of Disney Knowledge, Incentive & Group Travel, Luxury Travel, and courses focused on specific cruise lines such as Celebrity, NCL, Royal Caribbean and many others.
Beci, Chris and their staff of expert travel affiliates, are committed to continuing education and keeping up on the latest the travel industry has to offer. This helps them to ensure you always receive the most up to date information and best possible service to help you make informed decisions on how to spend your vacation time and dollar.